It broke my heart to learn that
I'll Have Another
will not be running in the Belmont Stakes or ever again. At the same time, I'm greatly relieved that his owner and trainer withdrew him from the race because of a tendon injury.
It would have been a tremendous honor if he had won the Triple Crown, not to mention making plenty more bucks for his owners. This is a fine example of integrity winning over wealth.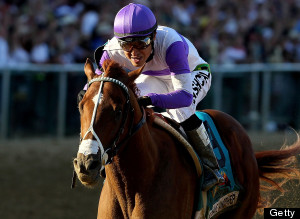 This horse has the heart of a champion and I hope he will sire many more during his retirement from racing. He will live on through his offspring.